EasyScopes® Entertainment Network
In February 1996, Jochen "Joe" Savelberg, a founding member of Euregio.Net, started the EasyScopes® Entertainment Network (the Network). This network of web sites for young women and teenage girls has grown into various channels covering astrology, horoscopes, love, self-help, music, and movies. Information about the different channels will be given throughout the rest of this document.
The EasyScopes Entertainment Network started on February 23rd, 1996 with the Original Internet LoveTest. This was an online version of a computer game, which Joe Savelberg had created while still in high school. In December 1996, the EasyScopes horoscope directory and search engine was created. Very quickly, EasyScopes became one of the most popular astrology destinations on the Internet.
The LoveTest site also became more and more important as new tests and quizzes were created. Every year before Valentine's day, this site gets a lot of media attention. Nowadays, it creates more traffic than the astrology index.
Following channels are included in the EasyScopes Entertainment Network:
Recently, the Network was redesigned, new functionalities and features were created and the content was refreshed. This update was necessary to give the network a modern look and provide current content.
The content for the Network is created in-house. External authors working on a contract basis create the weekly horoscopes. We hold the copyright to the content on our network except for the music quiz where we license the broadcast rights from the authors rights organization.
In September 2005 we started a large redesign project for the EasyScopes Entertainment Network. During summer 2005, a graphic bureau worked on the new designs in order to create a consistent appearance of all content channels. We noticed a significant increase in hosts, sessions and pageviews. The new backend allows us to pull the content from databases for easier manipulation and syndication.
The following graph is a summary of the server log files from January 1st, 2005 until February 20th, 2006. It displays the total number of hits per month and the average number of hosts (IP addresses) per day per month.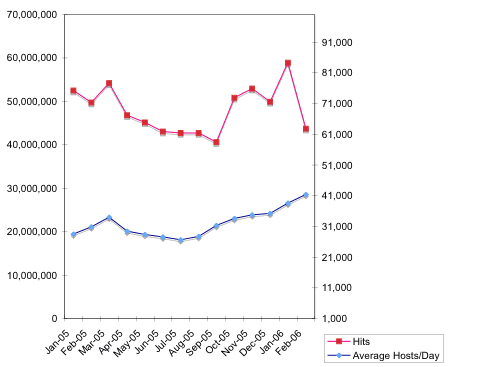 Recently, I started using QuantCast to compile aggregated statistics of my network.